Sai Versailles
Multimedia Journalist
📍 Manila, Philippines

---
VICE • Reportage
How the Philippine Drug War Could Kill the Underground Dance Scene →
A controversial drug raid leads to the closure of a dance club in Manila, leaving a music subculture lost and scrambling.
VICE • Reportage, Photo
How the Catholic Church is Helping, and Hurting, the Philippines' Poorest People →
The Church is running poverty alleviation programs in communities like Tondo. But it's also fighting against policies that could help them.
VICE • Profile
This Artist is the Only Man Ever Convicted of Blasphemy in Modern Philippines →
Carlos Celdran took on the church eight years ago and the fight took over his life.
MUNCHIES • Feature, Print
Filipino Chefs Are Taking Back Control of Their Cuisine →
Filipino food is gaining worldwide popularity. But as the diaspora grapples with the country's multicultural history, the cuisine's identity is yet to be established.
Featured on VICE magazine's "Borders" Issue →
CNN • Reportage
For Metro Manila's cyclists, National Bicycle Day was like any other day →
Cyclists from all over the Metro celebrated the fourth Sunday of November on their bikes, ingraining why a day like this is needed in the first place.
CNN • Feature
In Manila, Heritage Architecture Struggles to Survive →
With the Capitol Theatre — one of Manila's last remaining art-deco theaters — now gone, the city's cultural landmarks face a precarious future.
VICE • Photo, Reportage
Black Friday Protest, May 2022 →

Activist groups in the Philippines rallied in the capital Manila on May 13 to protest what they claim to be fraud in the 2022 presidental elections, in which a deceased dictator's son looks poised to win as president.
Out of Print • Profile
Luis Lopa at a Crossroad in Three Acts →
A writer sets out on a script about a painter at a crossroad, making sense of surfing, the banes of technology, and art's value in the world.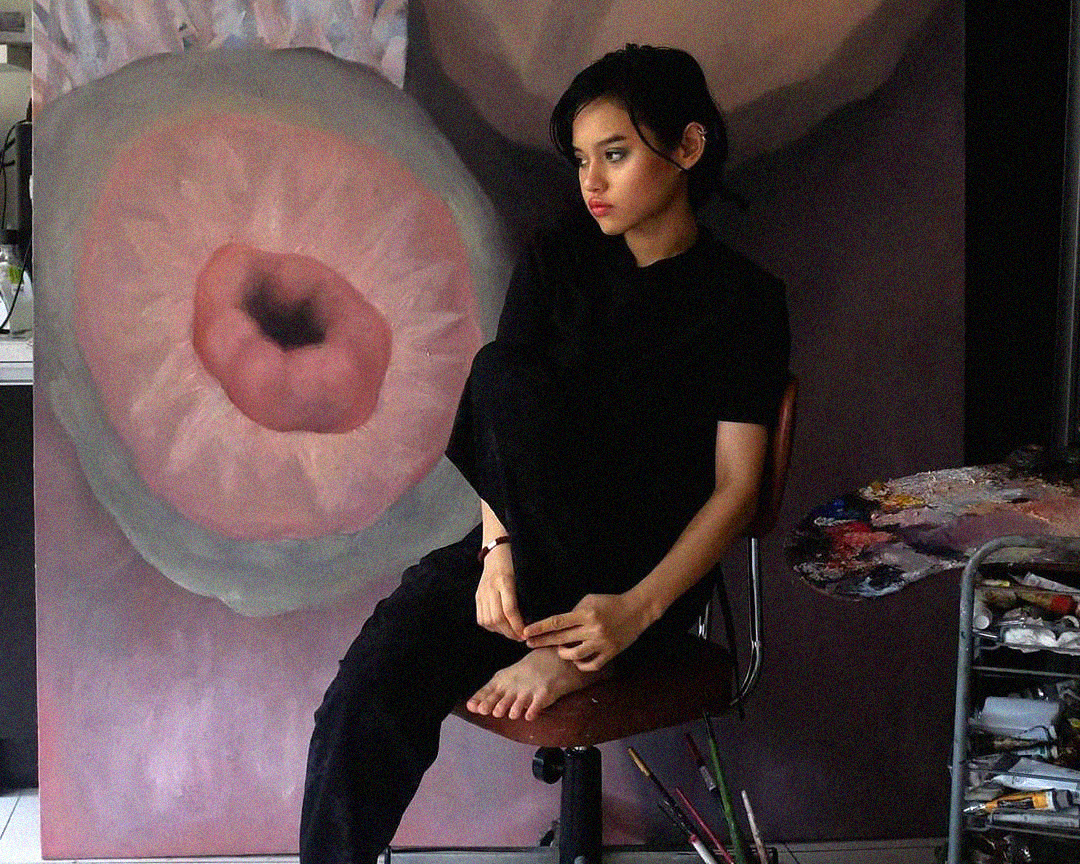 Out of Print • Profile
There's a Bit of Bree Jonson in All of Us →
To those who knew the artist, no headline could ever capture the complex truth of her humanity. But there are beautiful traces of it.
Biter • Essay
Breakfast Interrupted →

Drawing from real life events, Sai Versailles reflects on her complicated adolescence and the impact it had on her diet.
L'Officiel magazine • Profile
On the Beauty of Friendship and Circumstance →
To curator Diana Campbell Betancourt, thriving cultures are deeply rooted in a desire for human connection.
Buy the print issue →
CNN • Feature
Plant Parenting as a Response to Our Lack of Urban Green
Spaces →
The cult of plant parenthood comes as a response to reclaim the right to green spaces, prioritizing the residential over the commercial interest.
Manila Community Radio • Radio, Video
Perception Is Real, the Truth Is Not: Dissecting 'The Kingmaker'
MCR examines some hard questions by taking another look at Lauren Greenfield's cutting profile of the Marcos matriarch, Imelda. Together with film critic Philbert Dy, DAKILA-Active Vista campaigns director Mark Fortaleza, and host Sai Versailles of Cultural Learnings, we try to unpick the truth from lies, and ponder on our nation's past, present, and future.
Manila Community Radio • Radio, Video
Panel Discussion: Women In Cycling
Hear women's perspectives in cycling culture as Sai Versailles of Cultural Learnings drives this roundtable discussion with Pam Angeles (Bikeary Bicycle Lifestyle), Thysz Estrada (creative director and writer), Marla Darwin (Design Director, Natural Selection Design), and Corinna Pettyjohn (2 Wheels 3 Hearts).
Courier magazine • Feature
A tour of Manila's cultural quarter →
Each issue, we link up with locals in cities around the world to uncover what it's like to live and work there. Here, Sai Versailles takes the pulse of Poblacion.
Buy the print issue →
---
Biography →
Sai Versailles is a multimedia journalist, specializing in culture stories. Based in Manila, her reporting often investigates the sociopolitical dynamics of creativity, exploring the everyday lives of people and their communities.
Under her DJ artist name
Versailles
, her radio shows are meticulous and referential, with club sets that shuffle through densely layered repetitions and piercing sound.
She is the curator of Cultural Learnings, an archivial project,
newsletter,
and
radio show
. Once described as radiating "the fond specificity of a mixtape smothered in fingerprints," the Cultural Learnings show on Manila Community Radio explores cultural learnings to further your cultural learning through music, field recordings, sound bites, interviews, and more.
Master Selector is Versailles' monthly show on
Refuge Worldwide
, taking her spectral library outside the club and inviting guests to share music for chilling.
Sai earned an MPhil from the University of Oxford.
Vogue Philipines,
May 2023
Shot by
Sharif Hamza
---